Sentencing of individuals who have been found guilty in the Scottish criminal courts is a crucial part of a judge's role. Parliament (whether at Westminster or Holyrood) will often determine the length of sentences through the medium of legislation. Sentencing may also be influenced by judicial precedent.
A lot of misconceptions exist regarding sentencing by judges e.g. members of the public might believe that an offender found guilty of culpable homicide (murder) will serve 17 years only. This is a failure to appreciate that the offender in question must serve a minimum term of 17 years before they can apply for parole. The Parole Board may well refuse to release the offender. The main function of the Scottish Sentencing Council is to demystify sentencing decisions and, therefore, educate the public about these matters.
Sentencing is not just about imposing prison terms on the offender. Judges have a variety of options at their disposal:
Admonition
Caution
Community Pay Back Orders
Drug Testing and Treatment Orders
Football Banning Orders
Fines
Reparation
Restriction of Liberty Orders
A particularly useful resource for students and practitioners of Scottish criminal law is the website of the Scottish Sentencing Council:
https://www.scottishsentencingcouncil.org.uk/
This body was established by the Scottish Parliament in October 2015 as a result of provisions contained in the Criminal Justice and Licensing (Scotland) Act 2010. It consists of 12 members – a mixture of judicial, legal and lay individuals.
A list of the current membership can be viewed by accessing the link below:
https://www.scottishsentencingcouncil.org.uk/about-us/membership-and-recruitment/
According to the Council, its primary duties are as follows:
the preparation of sentencing guidelines to be used by the courts
the publication of guideline judgements which the courts have issued
the distribution of information to the public and practitioners concerning sentences issued by the courts
The Council also carries out research into sentencing.
It is important to note, however, that its remit does not extend to involvement in individual sentencing matters. Crucially, this is a matter for Scottish criminal judges.
The first sentencing guidelines were approved by the High Court of Justiciary on 30 October 2018 and became operational on 26 November 2018.
The link to the principles governing sentencing can be found below:
https://www.scottishsentencingcouncil.org.uk/media/1927/guideline-principles-and-purposes-of-sentencing.pdf
Sentencing Video
One of the really interesting resources on the Council's website is a video (using a fictional case study) which demonstrates how judges arrive at verdicts in criminal cases. The link to this resource can be found below:
https://www.scottishsentencingcouncil.org.uk/about-sentencing/sentencing-video/
Additional resources on sentencing
The website of the Judicary of Scotland also provides some very useful resources i.e. sentencing statements by judges which set out the rationale for the punishment(s) imposed on the offender by the criminal courts.
A link to a recent sentencing statement by a Lord Commissioner of Justiciary in the High Court at Edinburgh can be found below:
http://www.scotland-judiciary.org.uk/8/2146/HMA-v-Gavin-Scouler
Conclusion
The aim of the sentencing guidelines is to ensure that judges in the criminal courts are making decisions in a transparent and coherent way which the public can understand. Judges can and do come in for a lot of criticism when it comes to sentencing decisions. Often the public does not understand what lies behind these decisions and, frequently, certain sections of the media are not exactly helpful in this regard.
It should be appreciated that the hands of judges are tied by legislation and judicial precedent which govern sentencing.
The area of criminal law regulating the possession, supply and production of illegal drugs (whether Class A, B, C or temporary Class drugs) is a great example of the boundaries in which judges have to operate when imposing sentences for these types of offences. Although criminal justice is a devolved area, the laws governing illegal use of drugs are UK wide.
A link to the possible sentencing limits for drugs offences can be found below:
https://www.gov.uk/penalties-drug-possession-dealing
It is important to note that that the guidelines do not mean that sentences in similar types of cases will be exactly the same. Judges will take into account different factors when imposing sentences e.g. relevant previous criminal convictions, victim (impact) statements and whether the individual co-operated with the court by pleading guilty at an early stage of the proceedings.
Postscript
In May 2019, six men (involved in a Glasgow gangland feud) were jailed for a collective total of 104 years by Lord Mulholland at the High Court of Justiciary.
A link to an article on the BBC website containing the background to this story and a video of Lord Mulholland passing sentence can be found below:
Six jailed over Glasgow 'war zone' gang feud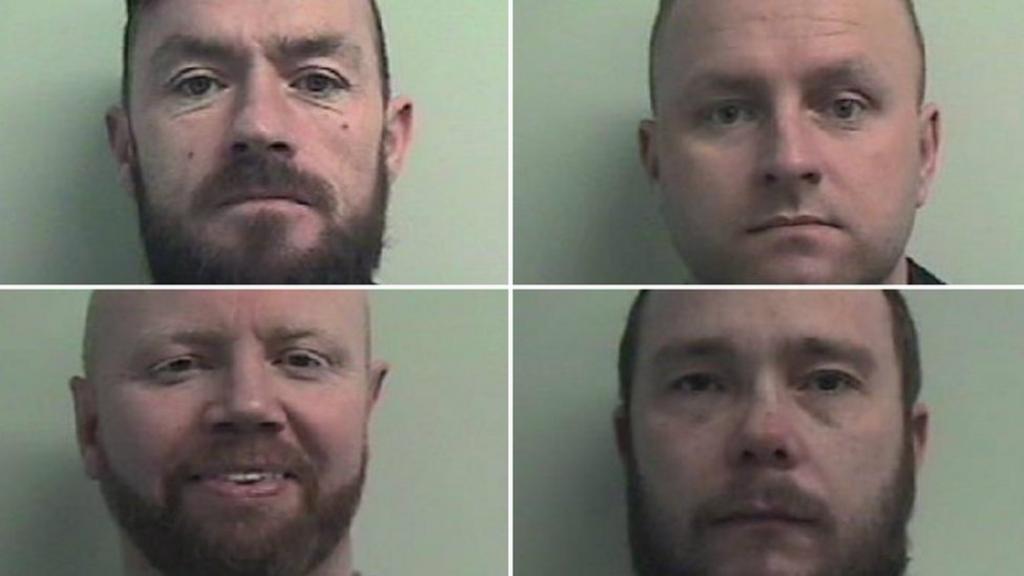 Police said it was a miracle no-one died in the attacks, which took place in and around Glasgow.
Copyright – Seán J Crossan, 4 March and 10 June 2019