Don't do what? Get pregnant, it would seem if you're a female athlete who receives sponsorship from one of the planet's most visible sporting brands.
Just this week, allegations have been made by a number of female athletes that Nike withdrew sponsorship after they discovered that they were pregnant.
Now, if the allegations are true, this would certainly represent an example of unlawful, less favourable treatment. Pregnancy and maternity discrimination are prohibited in terms of Sections 17 (non-work cases) and 18 (work cases) of the Equality Act 2010. They are very specific forms of sex discrimination (a person's sex or gender is a protected characteristic in terms of Section 11 of the Act).
In 2019, you might have been forgiven for thinking that pregnancy discrimination was a thing of the past…
The Sex Discrimination Act 1975
The (now repealed) Sex Discrimination Act 1975, which was held up as a significant advance for woman's equality, was fundamentally flawed when it addressed the issue of pregnancy and maternity discrimination.
When the Act of 1975 was first introduced, cases involving alleged discrimination connected to a woman's pregnancy encountered an unexpected problem, which the Parliamentary draftsmen had not taken into account: how could it be valid to attempt a comparison between that of a pregnant woman's situation with that of a man? A strict application of the legislation meant that this was not a valid comparison and, therefore, many of the earliest sex discrimination claims failed because some judges applied the literal approach to the interpretation of the Act – even if this made the law something of an ass and, more seriously, led to blatant injustice.
This Act made it very clear that central to the success of any claim was the complainant's ability to compare his or her allegedly less favourable treatment to an actual or hypothetical male/female comparator. If he or she could not do this, the claim would fail. A woman claiming that she had suffered discrimination on the grounds of her sex must have been able to carry out a like with like comparison.
The woman's circumstances and those of her male comparator must have been broadly the same (they should not have been materially different) otherwise a meaningful comparison could not be made.
The European Union
This situation really continued into the 1990s and, it was only when the Court of Justice of the European Union resolved the matter in Dekker v Stichting Vormingscentrum voor Jonge Volwassen Plus (1991), that things started to improve. Dekker clearly established that there was no requirement for pregnant women to identify a male comparator when they were alleging that they had experienced unlawful, less favourable treatment.
The Equality Act 2010 now, in theory, affords pregnant women and mothers much stronger legal protection than the Sex Discrimination Act 1975 ever did, but yet examples of pregnancy and maternity discrimination still arise.
It was as recently as 2016 that the Equalities and Women Committee of the House of Commons exposed the shocking extent of pregnancy and maternity discrimination in the UK. Maria Miller MP, chair of the Committee stated:
"Our 2016 report laid bare the significant discrimination and poor treatment faced by 54,000 pregnant women and mothers at work each year."
A link to the Committee's Report can be found below:
https://www.parliament.uk/business/committees/committees-a-z/commons-select/women-and-equalities-committee/news-parliament-2017/pregnancy-maternity-discrimination-2-statement-17-19/
Just do it?
Being deadly serious, the above slogan (of Nike) will hardly sit well with those female athletes in receipt of sponsorship from the company. That said, should we really be surprised that stories of this nature emerge when read against the Report of the Women and Equalities Committee?
A link to the article about alleged pregnancy discrimination as reported by Sky News can be found below:
Pregnant athletes 'punished' by Nike, says champion British runner Jo Pavey
http://news.sky.com/story/pregnant-athletes-punished-by-nike-says-champion-british-runner-jo-pavey-11721817
In 2018, Nike was praised for endorsing Colin Kaepernick, the former African American Football star who had actively campaigned to raise awareness of racial inequality. Now with these sex discrimination allegations, is it a case of one step forward, ten steps back for Nike?
Postscript
On 26 May 2019, The Independent reported that Nike had promised not to impose financial penalties on those female athletes who became pregnant and who were in receipt of sponsorship from the corporation. This was undoubtedly due to the considerable, adverse publicity which the story had generated around the world.
A link to the article in The Independent can be found below:

https://edition.independent.co.uk/editions/uk.co.independent.issue.260519/data/8930341/index.html
On 17 August 2019, the BBC reported that Nike had removed the offensive clause from its contracts with female athletes.
A link to the story can be found below:

Allyson Felix: Nike changes policy for pregnant athletes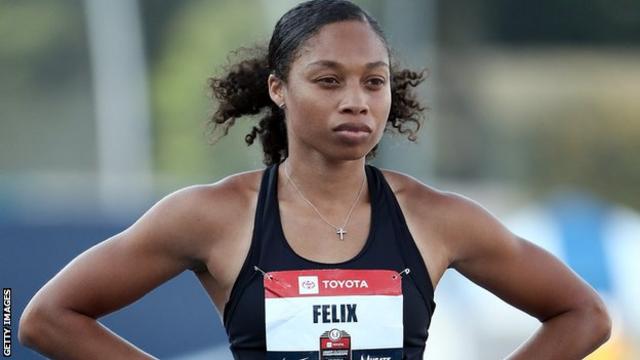 Six-time Olympic gold medallist Allyson Felix says female athletes will "no longer be financially penalised for having a child" after Nike changed its sponsorship contracts.
Copyright Seán J Crossan, 17 & 26 May and 17 August 2019