The avoidable death of Annang Neurtey
As someone who works more in the civil rather than the criminal legal tradition, I tend to focus more on the outcome of obtaining damages or compensation for the victim of an industrial or work-place accident.
It's simply a matter of horses for courses i.e. you stick to what you know or what you're trained to do. Admittedly, most of the victims of industrial accidents that I have represented are perhaps more focused on obtaining compensation for their injuries – especially if these are life changing. Any criminal liability that the employer may have is purely incidental i.e. something of a side issue. Then again, I suppose you could say that about most civil actions where the criminality of the pursuer remains firmly in the background (think dangerous and careless driving incidents).
The victim of a work-place delict (or tort) may get some satisfaction from their employer or its officers and managers appearing in the dock at a subsequent criminal trial, but this is unlikely to be satisfying in the long term. It will not allow them to get their lives back on track or to move on; payment of compensation is perhaps a more satisfactory conclusion to things. I make that last statement fully in the knowledge that no amount of money can truly give victims back what they have lost.
Yet, every so often, I come across a story or an incident which underlines the importance of criminal law regarding industrial or work-place accidents.
In 2015, one such incident occurred onboard Aquarius, a fishing trawler which operated out of the North East Scottish fishing port of Banff. Serious failings in the operation of the vessel led to the death of a crewman. The victim, 47 year old, Annang Neurtey from Ghana, was swept overboard: his body has never been recovered – adding immensely to the grief of his family.
Anyone who has read Sebastian Junger's 1997 novel, The Perfect Storm (or viewed the film adaptation of 2000) will be readily familiar with the dangers that fishing folk face at sea. That said, the tragedy which befell Annang Neurtey was entirely avoidable. If the skipper of the Aquarius had properly supervised the crew and followed basic safety procedures, the accident would not have occurred.
Following Mr Neurtey's death, MB Aquarius Ltd of Buckie, the company which owned and operated the vessel, was investigated by Police Scotland and the Marine and Coastguard Agency. The conclusions reached by investigators were that basic risk assessments had not been properly carried out and that the employer had failed to put a safe system of working in place.
At a subsequent criminal prosecution against Mr Neurtey's employer for health and safety breaches at Aberdeen Sheriff Court, the company pleaded guilty to breaches of marine safety laws, namely, Regulation 5(1) of the Merchant Shipping and Fishing Vessels (Health and Safety at Work) Regulations 1997 and Sections 85 and 86 of the Merchant Shipping Act 1995.
A fine of £50,000 was imposed on the employer – it would have been £75,000 had an early plea of guilty not been entered by the company.
Mr Neurtey's family will doubtless be contemplating a civil action for recovery of damages – unless of course his employer does the decent thing and quickly settles such a claim.
A link to the Marine and Coastguard Agency's Report of its findings concerning Mr Neurtey's death can be found below:
https://assets.publishing.service.gov.uk/media/57f3c2d7ed915d06fa000030/MAIBInvReport18_2016.pdf
A link to an article in the The Press & Journal about the trial can be found below:
https://www.pressandjournal.co.uk/fp/news/aberdeen/2011786/buckie-based-fishing-company-fined-50000-following-death-of-crew-member/
Those dark satanic mills …
Have concerns about health and safety gone mad? The former British Prime Minister, David Cameron certainly thought so when his Coalition Government (2010-15) introduced the Enterprise and Regulatory Reform Act 2013 (in particular, Section 69 of the said legislation) which removed the right to bring a civil claim for breaches of the Health and Safety at Work Act 1974.
It does not mean that employees can no longer bring a civil claim if an employer breaches its duty of care, but significantly claimants will no longer benefit from the presumption of strict liability previously imposed on organisations. Since this reform, it will be essential for claimants to prove negligence on the part of their employers for breaches of health and safety.
We would, however, do well to remember our history: concerns about health and safety were often ignored in the not so distant past.
The phrase "dark satanic mills" comes from the poem, And did those feet in ancient time by William Blake. The phrase has been interpreted as a searing indictment of the wickedness and exploitative practices of 19th Century British industrialists who most certainly put profit before people. This is why rare individuals such as the Welsh born industrialist, Robert Owen and his New Lanark Mills we're regarded as truly radical and progressive employers.
The words of Blake's poem were later put to music by the composer, Hubert Parry, and is better known as Jerusalem – an alternative English National Anthem for many because of its rallying call for social justice for the poor and the oppressed.
Over time, admittedly, the UK Parliament did intervene by bringing in legislation to curb some of the frankly dangerous and disreputable practices which had been tolerated in British factories, shipyards and mines. With the industrial revolution, Britain did indeed become the 'workshop of the world', but this accolade disguised the terrible human cost which could be measured in countless deaths, terrible injuries and overwhelmingly misery.
Some months ago, I saw a photograph by Bill Brandt in The Independent's Saturday Magazine which documented life in an East Durham mining community. I was pretty shocked by what I saw: the houses of the miners had no windows. Think of it: these workers spent their days down the pit in almost total darkness. More shocking, was the fact that Brandt had taken the photograph as recently as 1937.
Yet surely, the bad old days are long gone? The British work-place has become a much safer place? Undoubtedly, as we shall see, employers have become much more aware of their responsibilities to their employees and workers in respect of the issue of health and safety.
That said, if you look at the info graphic produced below from the UK Health and Safety Executive, poor conditions and practices in British work-places still result in unacceptably high levels of injuries and illness – in 2019!
Recently, Amazon, the global internet retailer, received very unwelcome media attention about the number of industrial injuries which have occurred in its UK premises. It's probably fair to say that Amazon UK does not enjoy a particularly good reputation amongst trade unions regarding its employment practices and the recent media stories only compound this state of affairs.
Links to stories about Amazon UK on Sky News and Channel 4 News can be found below:
http://news.sky.com/story/hellish-conditions-at-amazon-warehouses-seriously-hurt-hundreds-11936881
Health and Safety at Work Act 1974
It is worth noting that the employer's common law duties which aim to protect the health and safety of employees establishes a regime of civil liability. In other words, should the employer breach these duties, he will most likely face a civil action by the injured employee who will be attempting to recover compensation.
The Health and Safety at Work Act 1974, on the other hand, makes an employers criminally liable if they fail to take reasonably practicable steps to protect the health and safety of their employees. An employer will, therefore, face penalties in a criminal court for breaches of the Act.
The Health and Safety (Offences) Act 2008
The provisions of this Act came into force on 16 January 2009 and apply to offences committed after this date by employers. Scottish criminal courts will now have the power to impose maximum fines of £20,000 on employers who breach health and safety rules. In the most serious cases where health and safety rules have been breached or ignored, the courts may also have the right to imprison those responsible.
The Criminal Justice and Licensing (Scotland) Act 2010
Sections 65-68 of the Criminal Justice and Licensing (Scotland) Act 2010 should make it easier for organisations to face prosecution in Scotland in relation to allegations of criminal wrongdoing. According to Section 65, the term "organisation" applies to any of the following bodies:
a body corporate;
an unincorporated association;
a partnership;
a body of trustees;
a government department;
a part of the Scottish Administration;
any other entity which is not an individual
Such proceedings against organisations may be on indictment (Section 66) or on complaint (Section 67).
For a long time, it has been argued that an organisational culture which promotes lax practices or downright dangerous behaviour can lead to the commission of criminal offences. This an attempt to make organisations more accountable under the criminal law for conduct which causes harm to members of the public.
Overall, this means that an employer could face both a criminal action and a civil action for damages where he has neglected to obey the criminal law and the common law in respect of the employee's health and safety.
Conclusion
If only we need reminding that health and safety remains a major issue in the work-place, we need only look to a story from Scotland which appeared in national media outlets just this week.
Workers at the Mossmorran and Ineos chemical plants took unauthorised industrial action (wildcat strikes) which was motivated by serious concerns about the lack of health and safety in the work-place. Happily, the employers seem to be listening to the concerns and the employees are now back at work.
Failure by employers to take health and safety issues seriously can leave themselves open to both civil and criminal liability. During Britain's Industrial Revolution (from the 18th to the early 20th Centuries), it's true to say that there was no such thing as a culture of health and safety in the work-place. Industrialists like Robert Owen were remarkable because they broke with the paradigm of British industrial practice i.e. workers were resources to be used up and tossed aside when no longer needed.
The growth of the trade union movement and the emergence of the British Labour Party (itself a creation of the union movement) led to pressure for change and tangible improvements were made to working practices. Despite these advances, cases such as the death of Annang Neurtey and the figures from the Health and Safety Executive surely caution us against complacency.
Links to reports on the BBC Scotland website about the industrial action can be found below:
Union GMB said the workers had "continuously raised their concerns about conditions and safety on-site".
Mossmorran: Walkout at chemical plant over working conditions
Union officials said that concerns over health and safety and pay had been resolved following talks.
Mossmorran: Workers to return after wildcat strike in Fife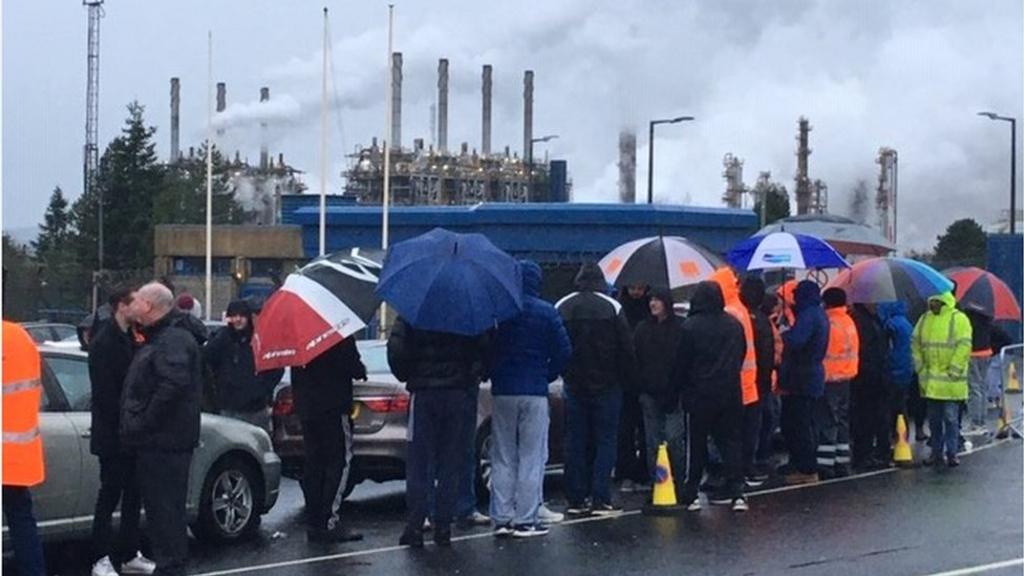 Related Blog Articles:
https://seancrossansscotslaw.com/2019/10/23/a-hard-days-night/
https://seancrossansscotslaw.com/2019/04/19/dont-stop-the-music/
https://seancrossansscotslaw.com/2019/02/22/stress-kills/
Copyright Seán J Crossan, 21 February 2020