Photo by Stock Photography on Unsplash
Today seems to be something of a red letter day for the Blog with regard to the issue of protected philosophical beliefs in terms of the Equality Act 2010.
We have already heard the news that Jordi Casamitjana has won the part of his Employment Tribunal claim that his ethical veganism is a philosophical belief in terms of Sections 4 and 10 of the 2010 Act (see Casamitjana v League Against Cruel Sports [2020]).
It was some interest that another news item popped up today concerning allegations that Amazon stands accused of threatening to dismiss those of its employees who become involved in climate protests. I would hazard a guess that Amazon is making a statement of intent that it may dismiss employees who perhaps break the law when they are involved in climate protests such as those organised by Extinction Rebellion and other similarly minded groups.
Criminal acts by employees committed outside the workplace could be regarded as gross misconduct in terms of Section 98 of the Employment Rights Act 1996. In other words, such behaviour by employees could result in the employer suffering reputational damage and, consequently, any dismissal for misconduct could be potentially fair. That said, employers should always carry out the proper disciplinary procedures when contemplating dismissal as the ultimate sanction for employee misbehaviour.
The real gripe – according to Amazon Employees for Climate Justice – is that the tech company allegedly objects to employees speaking critically about its failure to be more environmentally responsible.
Yet, there are potential dangers here for Amazon in the UK. In Grainger plc v Nicholson (2010) IRLR 4, the Employment Appeal Tribunal established that an employee's belief in climate change could constitute discrimination on the grounds of a philosophical belief.
So, we could have situation where Amazon employees who are taking part in quite peaceful and lawful climate change protests end up being dismissed. This would open up the possibility that employees of Amazon UK might have the right to bring claims for direct discrimination (Section 13: Equality Act 2010) in respect of their philosophical beliefs (Sections 4 and 10 of the Act).
In the USA, there could be even more serious legal implications – infringing the right to free speech which is protected under the Constitution.
Perhaps Amazon needs to go back to the drawing board …
A link to an article on the BBC News App can be found below:
Amazon 'threatens to fire' climate change activists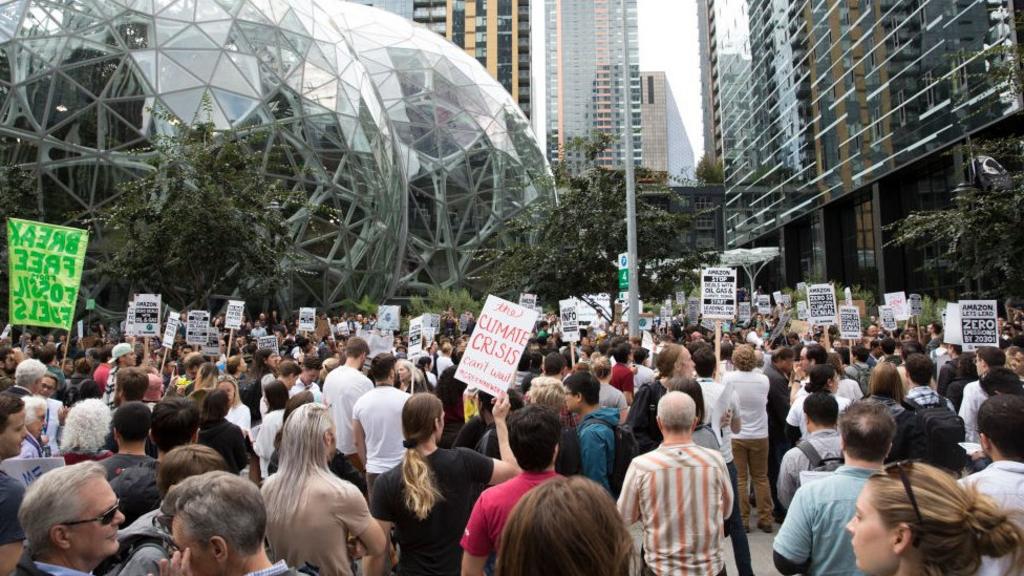 The company said employees "may receive a notification" from HR if rules were "not being followed".
Related Blog article:
https://seancrossansscotslaw.com/2019/06/05/im-a-political-activist-dont-sack-me/
Copyright Seán J Crossan, 3 January 2020